Designer Dresses
With over 130 Genuine Designer Sample dresses to try there is something here for everyone! The Designers are not listed as Amanda never knows what labels she can obtain. If there is something you particularly want please contact Amanda directly.
Alterations
Amanda has two wonderful seamstresses that she highly recommends. There isn't much these two talented ladies can't do! Their details can be found on our links page.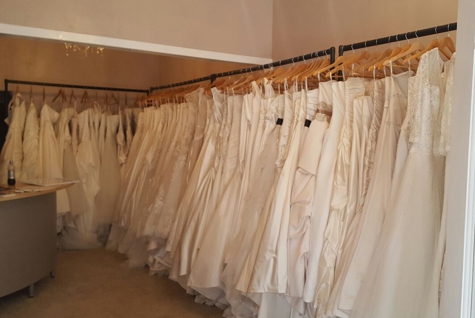 There are over 130 wedding dresses to try at Galloway Bridal. They have not been used but may well have been tried on by more than one bride.
Sizes start at 6 and go to 20+ Many of the dresses have lace up backs – or can be altered to this style – so will fit larger or smaller brides.
There is only ONE of each dress so you will never see another bride from Galloway Bridal wearing the same dress as you!
At Galloway Bridal you find your dream dress and can take her home with you, no long waits to see her again!
Bridesmaid/Prom Dresses
Galloway Bridal is an official stockist of Dessy and Emma Bridal